1.10篇7年级下的英语书面表达
中考英语作文范文:Great changes in my hometown More than twenty years ago, my hometown was just a small , old and poor town. Most of people were farmers. There were few factories. The people didn't have enough food to eat and wore old clothes. They had a hard life . Great changes have taken place in the past twenty years . The people have found a lot of ways of making money . Now there are many tall buildings . They are very beautiful . Roads are wide and clean . People can take buses or drive their own cars to go to work . Many people have cell phones and personal computers. People's living conditions have improved a lot . Thanks to the government's efforts . my hometown is becoming more and more beautiful . 中考英语作文范文:Save the earth How to protect the environment has become one of the biggest problems in the world . It's our duty to protect our environment . No matter where we live , we should do something to keep our neighborhood clean and tidy . We can collect waste paper or other waste things for recycling. We should plant more trees and we should prevent those factories from pouring waste water into rivers, lakes and fields. We shouldn't leave rubbish everywhere and spit in public places . We mustn't pick the flowers or step on the grass in public. If everyone tries his best to protect the environment , the world will become much more beautiful and our life will be better and better . 中考英语作文范文:Improve our environment Good environment can make people feel happy. To improve the environment means to qualify our life . What should we do to improve our environment ? We should plant more trees . And we should prevent those factories from pouring waste water into rivers , lakes and fields . Whenever we see litter on the ground , we should pick it up and throw it into a dustbin . Don't spit in public places . Don't draw on public walls . It's our duty to keep our earth clean and tidy . 中考英语作文范文:Pollution around us In recent years our life is becoming better and better. But our environment is becoming worse and worse. It's very bad for our life. Now many people have air-conditioners and cars, they produce (give off ) waste gas. More and more trees are being cut down. There are so much sand on the earth (leaving only sand ) . We often see factories pour waste into rivers or lakes. Water in the river is quite dirty. We haven't enough clean water to drink in cities. Now we are in danger. It's very necessary and important to protect the environment well. I think if everyone tries his best to protect the environment, the world will become much more beautiful , and our life will be better and better . 中考英语作文范文:Make our world more beautiful ! Protecting the environment is becoming more and more important to humans . It's our duty to take care of the nature around us . Animals and plants are our best friends ., and we should share the world with them . We shouldn't kill wild animals , and we must protect forests because they are animals' home . We must plant more trees and grass , they can make the world greener . The more beautiful the world is, the happier lives we will have . Let's do our best to make the world beautiful. 中考英语作文范文:Keep our school clean We are studying in this school. It is our duty to keep it clean and tidy. It is not good to spit in public places, such as in the library, in the class. We shouldn't leave rubbish here and there. Don't draw pictures on the wall, they influence the look of our school . We should keep the classroom clean and tidy. And we should do some cleaning often. If everyone tries his best to do something useful for our school, I'm sure our school will be more beautiful . 中考英语作文范文:My country life I like to live in the countryside. I live in a small village. There is a river near it. Lots of trees are around my house. I can see a lot of farms and birds. There is less noise. The air here is cleaner and fresher. There are fewer cars. I read aloud early in the morning. When it is getting dark, the moon is bright in the sky. It's very quiet . What a nice place I live in ! 中考英语作文范文:How to learn English well As we know , English has become an international language. It is more popular than any other language in China . English is widely spoken in the world and it is the most useful language around the world . But how to learn it well ? The best way is to use it all the time . If we can talk in English , think in English we can learn it well . At school , we should learn to hear , speak, read and write carefully . We should spend enough time in practicing English . If we keep on working hard at English , we will be 。
2.初中英语书面表达20篇
Dear Keisey, My name is Mike. This is my room. My cap is on the chair. I have a basketball and a football. They are both under the bed. I have a good friend. Her name is Kelsey Miller. She has a tennis ball bat. Here is a photo of her family. This is her elder brother. The other two are her parents.。
3.初一英语书面表达十篇60字左右
1.I have a friend.Her name is Selina. She is 14. Her birthday is Augest 8th. She has dinner at 6:30pm and goes to bed at 10:30 pm. She can dance and sing well . She likes comedies and wants to see a funny movie with her friend . Her favourite subject is musiv, English and PE. She thinks music is relaxing , English is interesting , and PE is exciting. 2. In our school , We have many events . We havea basketball game on April 15th. We like it because it's interesting. On May 4th, we have a music festival. We like it because music is relaxing . We have our sports meet on October 22nd. We like it because it's interesting and exciting . We like sports . We have a school trip on November 3rd. We like it too. It's interesting and relaxing. And we can learn a lot from it . Wee also have an English Speech Contest on December 30th. Some of the students don't like it . They think it's boring . But I think it's good for us .So I love it. 3.My name is Li Lei . I am fourteen years old . My birthday is on January 5. I am a member of our movie club. I like action movies and thrillers best . And I often see comedies and cartoons, because they are very interesting . But I don't like documentaries . They are so boring. 4.Dear Jane , I am very glad to be your pen friend . Do you want to know something about me ? My name is Li Ming . I am fourteen years old now . I am a student in No 1 Middle School . It's a big school . There are twenty classes in our school . I'm in Class One, Grade One . We have six subjects , but I like science best. I think it's very interesting . After school , I often play table tennis with my friends . I like it very much . Can you write to me and tell me something about you ? Love, Li Ming。
4.七年级书面表达
He is my new English teacher . His name is Michael . He is really good-looking and clever . He comes from Hefei . He has a lot of hobbies . He likes playing computer games , singing some popular songs and playing tennis . I think he will be a good teacher .。
5.七年级英语 书面表达
Alan Miller is my English teacher,he was born on Nov.12th,and now he is 24 years old .He comes from America,so he likes chicken and hamburgers very much.He also likes sports,like basketball.He always plays basketball together with us after class.He plays very well.His favorite color is blue,I like blue,too.Mr Miller is very funny,he always tells jokes in his class,we all like him very much.。
6.七年级英语书面表达作文
书面表达:
nowadays , people may get different sports goods to enrich their colorful life ,for the same reason,i have some sports goods to intorduce .
The first is my baskball,I often play it when after school,it can make me strong;
the second is rope ,I often Jump-rope time for brake ,it can let me get great mood
all in all ,I like my sports things very much,i can get many benefits from them.
7.初一年级 英语书面表达
悬赏分高些,不来我可不干,累死我了。
(A) welcome to Beijing Beijing is a capital of China.There are many places such as: Summer Palace, Great Wall National Palace Museum can play.A Beijing roast duck can enjoy.can buy many souvenirs in some shopping . In the theater and the opera theater and national wonderful film.2008 years Beijing Olympic participants was very successful .Here you are always welcome the arrival .(B) Single parents will report on the situation Name: Simon classes: the seventh grade (8) Ban teacher:Miss GaoHe's learning: language, excellent English, history, geography excellent, mathematics needs to be improved,Has been a good student,His personality: smart, happy, helpful.Very cute,I have very high expectations for his.Activity: good at basketball, volleyball, well-organized classes. Activities and strong, class responsibility is also good, I'm going to say about his four good teenagers。 (C) My pet My pet is a dog, its name is called Huanhuan. It looks very cute. Long with round yo black eyes, like the same delicious chocolate beans. It's nose to spirit it! A visitor, it is News smell his smell, to identify that he is good or bad. It is so smart ah! It unfamiliar people, it must be for him, "Want" and Jiaoji Sheng, until we know that this person is a friend before it stopped. It likes to eat meat bones, meat and bone saw will be very excited. It tells us we are all very friendly, so we are very fond of it. (D) start shopping I have a neighborhood shopping center called Star Shopping Mall,shopping center a total of six layers, there are many shops, such as restaurants, fast food shops, appliance stores, bookstores, clothing stores, shoe stores, sporting goods storesshopping center opened at 9 am, pm to close; 4 every day, a large number of customers to visit.Things because everything here, good quality and affordable. By the customer's favorite. Of course, I also like it here. (E) SundayZhu Hua on Sunday afternoon, and his classmates play in the park, while they have fun when I did not expect to be. . . . . . They heard the cry for help, they find it very strange, it was launched down the sound to find the people who ran for help and saw a little girl fell into the river, the little girl's mother could not swim, we are very anxious. At this time, Zhu Hua jumped into the river, save her ashore, then, Zhu Hua is also exhausted, and shows that he is to try to save the little girl landed. He was a good boy, sacrifice to save people, brave. They are very grateful to him.(F) My Dream HouseA three-story building, five rooms on each floor, each home to grandparents, parents, my aunt and uncle there, brother. The first layer is the dining room, kitchen, living room, storage room and bathroom. The second layer is the grandparents, my, brother's room there is bathroom and a special homework room, the third layer is the father and mother, uncle, aunt's room, as well as study and bathroom, TV room, floor, next to a creek, there are some small river hills. After the floor has a garden there are a number of trees, flowers and vegetables. Front of a football field, where some children often play football.(G) In My Classroom My classroom on the third floor in Building B, it big and bright and clean; floor next to a reading room, every day we go there to learn, reading; in the classroom, Helen sat in front of me, Jack sat behind me, we are good friends; we clean the classroom after school together, we listen carefully in class, study hard, we are very happy here.(H)Dear Ivan, Thank you for sending me the postcard.I'm very happy to tellyou my life in Sunshie TownThis town of beautiful sunshine, things are very modern. Air is not polluted, the river did not. A park in the town center. Shopping here is great, there selling clothes, food, electrical appliances. . . . . . Variety. Chinese food is very delicious, I love it. Yesterday I went to the park picnic, particularly interesting. A few days ago a few students even made it back。
Hope to seeyou soon.(I) With love from John Tiger is the king of beasts, but now the number is declining tiger, seventh grade (3) classes of students to urge everyone to protect the tigers, they live in forests or mountains to feed on small animals, tiger bones hard, can do drugs, therefore, often suffer from the world around 5000 tigers there, we need to protect them. Human hunting; (J) Teenagers need healthy eating Good afternoon,everyone! The topic of my speech today is "Teenagers need healthy eating". Healthy eating is very important to us teenagers.HoweverPhenomenon: 1. Eat snacks (or unhealthy food) 2. Too little or too much intake of nutrients 3. Do not eat breakfast Consequences: 1. Affect the 。
8.七年级英语书面表达
My dream home
Someone said that Ideal life is the ideal of the life. I think my dream home is not very large, but it must be very beautiful. There are at least two gardens. One is at front and the other is at back. There arte many flowers inmy gardens.
Then when I'm near my home, I can smell aroma from my flowers. there are many kinds of fruit trees, so i can eat fruits all the year.
In my home, there is a big sitting room.There are many sweet snacks on the coffee table. I can share the snacks with my friends, and I can watch TV and eat sweet snacks at the same time.
All my rooms mst be tidy and beautiful.
Don't you think my dream is very good? It's my dream home, but I think my dream life will become true soon.
9.七年级英语书面表达,60字左右
My favorite animal is dog,because they are best fridends of humanrise. My favorite teacher is miss zhang, she is a very kind teacher,she help me a lot. My favorite subject is maths, because I think it's very interesting. My favorite sport is play basketball, it's very exited. My day:I weak up in the morning and do my home work, afternoon I play ,at night I sleep. My family:My Dad is strong,My Mom is beautiful and I am clever. My room is clearn.My school is very good.给分吧,原创非粘贴的,打字很辛苦的。
10.七年级英语书面表达
Bob is a middle school teacher.He teaches English inthe school.He comes from America.Beijing is very beautiful.Bob likes Beijing very much.His school is beautiful,too.He has many new friends in the school,they are all friendly.On Sunday,Bob often goes to park with his Chinese friends.He can speak a lot of Chinese,he always talks with Chinese.He is very happy in China。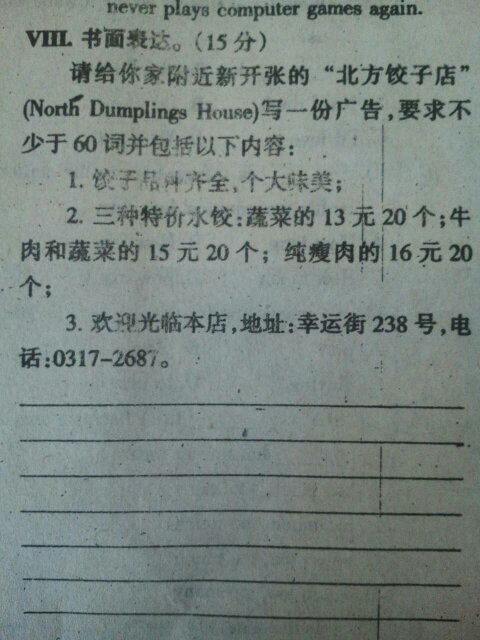 转载请注明出处文悦网 » 七级英语简单书面表达(10篇7年级下的英语书面表达)